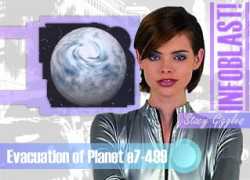 "Welcome back to the Alliance Central Infoblast; nano-accurate news, when you need it. I'm your host, Stacy Giggles. Our lead story for this quadrant: Evacuation of Planet e7-499 [Click here for more details] proceeds on schedule, with the majority of the planetary population already en-route to their new homes. Final evacuation of e7-499 will be completed later today, twenty-four hours before the system sun is scheduled to super nova. The luxury Star-Liners Vacuous, Unlikely and MorningStar will bear their pass##K#KILL THE SCUM##=-engers to their new lives, completing the system-wide rescue operation. Isn't that just great?"
The MorningStar is a thriller set in space, a mystery-adventure where everyone can make a mark. Fight. Trade. Investigate. Decipher the mysteries surrounding the MorningStar and its destination, while trying to stay alive on the trip.
There are four distinct forces in The MorningStar universe: The Alliance, The Hegemony, The Discordians and the Refugees, all with their own motivations and resources. Unions are formed, agreements made and backs stabbed. Four groups.
And one more. One force stands in the shadows, watching and planning with deadly purpose.
Live Action Role-Play has had a large following in Ireland for many years. A national interest in mythology has sparked many conventions, including (but not limited to) Trinicon, Leprecon, and Leamhcon.
And then we thought, hey, why can't we get in on the action?
The Octocon 2K LARP, The MorningStar, will take place in the Royal Dublin Hotel in the city centre over the weekend of 21-22 October and will last approximately 20 hours altogether. The LARP will cost five pounds (£5) in addition to the O2K entrance fee. Places are limited, so sign up soon!
Each player is assigned a character and will be sent their character information months before the beginning of the LARP. Updates will help you get into The Morningstar universe and psyche up for the game. Each character belongs to one of the main forces and has a number of objectives that must be achieved so that they may be able to continue through the game.
Quality handouts. Hairpin plot twists. Ridiculous weaponry. And, of course, Ireland's best science fiction convention if it gets to be too much...
"In other news, seven Hegemony Enforcers were arrest#d after attempting to hold up the Endeltine Bank of Centauri Alpha. Security mea##res prevented them from en### and it## expec#ed t#######====- -
...THIS IS THE VOICE OF DISCORD. YOUR MINDS ARE NOT YOUR OWN. RETURN TO THE WAYS OF YOUR FATHERS. THIS PURGE OF FIRE, THIS ACT OF GOD, INTENDED TO CLEANSE e7-499 AND SLAY ITS DISEASED INHABITANTS, SHALL NOT BE FRUSTRATED.
DO NOT SLEEP.
DO NOT REST.
WE ARE WATCHING.
YOU ARE ALREADY DEA#############====- - -
"the match today, Brian?
An absolute stunner, Stace..."
The Morningstar.
Who are you hunting?
Who's hunting you?
The LARP is being created (on the fly, as if you hadn't guessed) by James Brophy, Skye McNeill and RoBert McGregor.